As of 24 Jun 2022, we have stopped accepting new applications for the affiliate program. This page is served as a historical record.
Thank you for your interest in joining DevUtils Affiliate program! Here you will find the necessary information to get started.
Revenue Share
Your revenue share is 20% excluding payment processing fee (5%), discount (if any), and VAT/GST tax.
For example:
Product price: $40 (Basic License)
After discount: $29 ($11 off)
A customer from Singapore pay: $29 + $2.03 (7% GST tax) = $31.03
Paddle fee: $31.03 x 5% + 0.5 = $2.05
Your earning: ($29 - $2.05) x 0.2 = $5.39
Applicable license types
All license types are applicable in this affiliate program:
Tracking
You will be provided a referral link, for example:
https://devutils.app/?ref=
tony
If the visitor make a purchase with 30 days after visit the website with your referral code, you will earn a commission.
Email notification
You will be notified via your email when there is a new purchase from your referral code. This is an example email: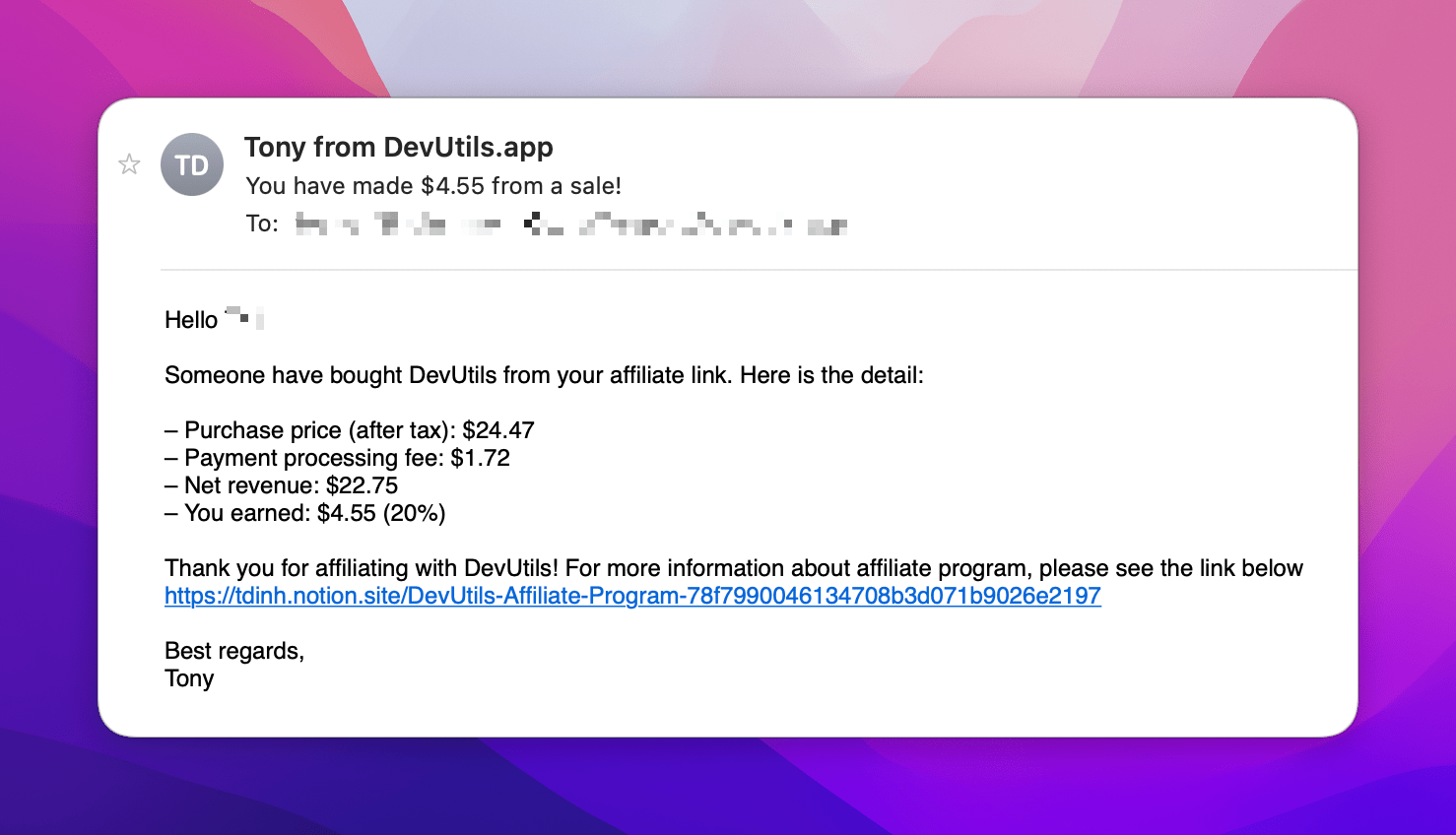 Payment
The payment will be made at the end of each month.
The payment currency will be USD.
We have a 30-day refund policy. Because of that, purchases occur less than 30 days will be paid in the next month.
Payment methods: PayPal only
How to test the tracking code?
After the checkout flow is completed, you will receive an email notification (also check your Spam). If you don't, please let me know!
How to apply?
Please send me an email to
[email protected]
, it would help if you can also share your source of traffic in the email.
You can also send me a message on my Twitter:
tdinh_me
Got questions?